FRIKKIE KIRSTEN, LNR-NIPB, PRETORIA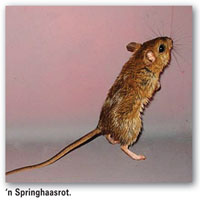 In die verlede was springhaasrot-uitbrake in die somerreënvalstreek siklies van aard, met hoë bevolkingsdigthede, wat normaalweg nie langer as twee agtereenvolgende plantseisoene geduur het nie.
Vir die afgelope vyf tot ses jaar, het hierdie patroon egter drasties verander met 'n toename in rotbevolkings asook 'n ongekende skadetoename gedurende en kort ná planttyd.
Die redes vir die hoë rotbevolkings is nie voor die hand liggend nie. Een moontlike rede hiervoor is warm, nat lentes, wat 'n verlenging van die broeiseisoen tot gevolg het asook 'n toename in beskikbare voedselbronne.
Nog 'n moontlike rede is die toename in verminderde of geenbewerking wat die rotbevolking bevoordeel deur 'n verhoging in skuiling en kosvoorraad.
Ongelukkig is daar nog geen werklike wenresep vir die volhoubare beheer van die rotte nie, maar die wintermaande voor oes, wanneer die rotte op hul kwesbaarste is, skep 'n gunstige geleentheid om bestaande springhaasrotkolonies in lande, wenakkers en kontoerwalle 'n knou toe te dien.
Beheermaatreëls

Doen dit deur tonneltoediening van geregistreerde lokaas of berokingspille. Vir tonneltoediening moet daarop geag word om die lokaas/berokingspille so diep as moontlik in aktiewe rotgate te plaas en die gat dan toe te trap.
Hierdie proses moet vir minstens drie aaneenlopende dae herhaal word en 'n tweede toediening moet ses of sewe dae ná die eerste behandeling gedoen word.