MARY JAMES, ARC-GRAIN CROPS INSTITUTE
The ARC-Grain Crops Institute (ARC-GCI) has been doing research for over two decades and we take great pride in the gains producers achieve from the results of ARC research.
With its prime agenda to increase food security with minimal impact on the environment and to improve producer competitiveness, the ARC-GCI has embarked on research on conservation agriculture.
Conservation agriculture can improve sustainability, production efficiency and reduce impact on the environment. It consists of reduction in tillage, retention of adequate levels of crop residues and soil surface cover and lastly, the use of crop rotations. Soybean is ideal for crop rotation. Visitors to the Grain SA NAMPO Harvest Day 2012 can get more information with regards to ways in which conservation agriculture can be most effectively practiced.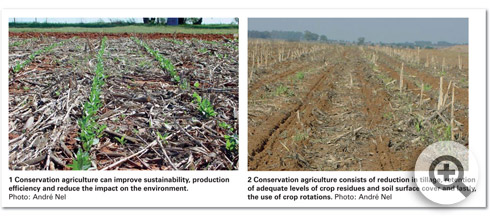 Soybean
In a concerted effort to improve the production and productivity of the soybean crop in South Africa, the ARC-GCI initiated the soybean programme in 1978/1979 (34 years ago).
At NAMPO, the ARC-GCI will highlight cultivar recommendations and production practices as well as the diseases and pests producers should be aware of. The advantages of soybean as a nutritious and healthier protein source will also be highlighted. The fact that the 2010/2011 season saw the largest soybean hectarage (480 000 ha), stresses the fact that interest in this industry is growing.
We encourage you to visit the ARC-GCI stand in the Microbial Solutions Hall for more information about this versatile crop.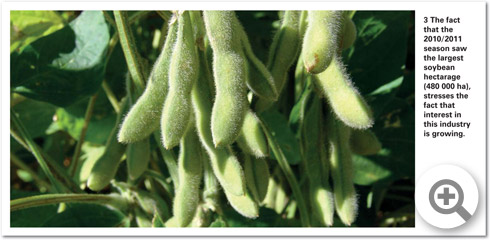 MIG to be launched
The Maize Information Guide (MIG) 2012 will be launched during NAMPO. The MIG was first published in 1994 with the objective to provide local maize producers with the most relevant and updated information on maize production technology on an annual basis.
The contents of the MIG are the product of ongoing research in various disciplines and over the maize production areas of South Africa. The MIG has over the years proven itself as a well-appreciated source of relevant and up-to-date information to maize producers, advisory services and interested parties in South Africa and elsewhere. Please get your free copy at the ARC-GCI stand during NAMPO.