Animal health plan curbs losses
August 2023

PIETMAN BOTHA,
INDEPENDENT AGRI-
CULTURAL CONSULTANT
According to the Red Meat Producers' Organisation (RPO), an animal health plan identifies risks to animal health, effectively prioritises these risks and puts in place strategies to reduce and/or eliminate them, thereby reducing the chance of diseases occurring.
The loss of a cow can easily amount to as much as R10 000, so one dead cow is one too many for a cattle farmer. In most cases, this loss could have been prevented if the farm's animal health plan was in place and implemented on time. A health management programme for a cattle farmer keeps the money in the bank.
Farmers should use the animal health plan as a management tool, and not see it as a daily chore that adds no value. The RPO recommends that an animal health plan must be based on farm-specific experiences and problems, as farming operations differ. It must be able to assist the farmer in identifying and controlling the specific health problems of the individual farm for which it has been designed, to improve and maintain animal welfare.
The implementation of an animal health plan entails much more than just saving the animals. It can help the animals to stay in condition, to produce a heavier weaner calf, and also helps the cow to get pregnant again. A cow that does not calve, leads to a big financial loss for the farming operation – and 5 kg per calf lost in growth on 100 calves can cause a loss of R15 000, which is a large amount of money.
A calving percentage that increases from 70% to 80%, also leads to a huge difference. With a weaner calf price of R30 per kilogram, this difference can mean R66 000 extra. One can definitely use this money for something!
It is not only the animal health plan that can enhance the calving percentage. When all aspects of farming are done correctly, it will insure a good calving percentage. Enough high-quality feed at the right times is critically for good calf growth and to maintain a good calving percentage.
It is important that every farmer must implement a good animal health programme. In Table 1, an example of a health management programme for a spring calving system is shown.
The RPO shares two fundamental and basic foundations of any effective animal health plan:
A competent vet or livestock specialist.
A farmer who is committed to the programme, has a good recordkeeping system and complies with the recommendations of the vet.
Once you have your programme ready, consult with your veterinarian and amend it to suit your farming operation. The veterinarians usually have a system with relevant information in place, where all the disease outbreaks are stated.
Farmers have a responsibility to produce safe products, and your animal health plan is crucial to your sustainability.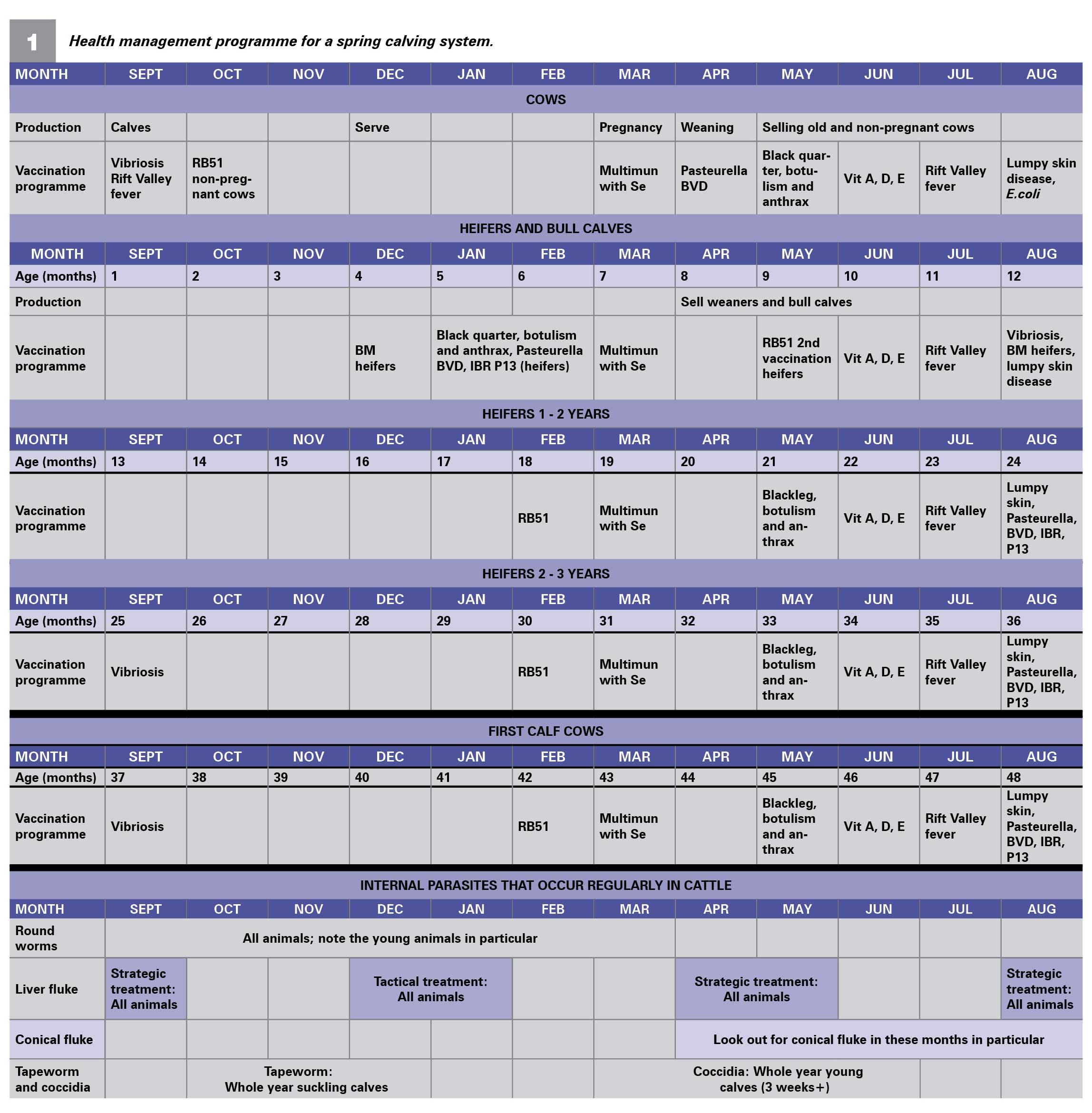 Publication: August 2023
Section: Pula/Imvula