DAAN MARAIS, AFRIKLOK
Die Suid-Afrikaanse Inkomstediens (SAID) se voortgesette afdwinging van hulle vereistes vir dieselkortingseise was die afgelope jaar sterk in die kollig en dit is duidelik dat hulle nie van plan is om terug te gaan na die vorige bedeling waar eise op grond van fakture uitbetaal is nie.
Dit plaas druk op produsente om volledig en akkuraat boek te hou van dieselgebruik, wat op sigself natuurlik ook ander voordele inhou, gegewe die groot impak wat diesel op produksiekoste het.
'n Groeiende aantal produsente gebruik die Afriklok-stelsel hiervoor en sover bekend het die SAID dié stelsel se verslae nog elke keer aanvaar. Afriklok is eenvoudig genoeg dat ongeletterde personeel daarmee kan werk om 'n akkurate logboek tot stand te bring.
Die produk is ontwerp om die beheer en aanteken van dieseluitreikings op die plaas te hanteer. Dit werk deur 'n behoorlik gemagtigde bestuurder, 'n behoorlik uitgekende voertuig en (opsioneel) 'n uitgekende kostesentrum of aktiwiteit te vereis alvorens dit diesel sal voorsien. Die aktiwiteit word in die stelsel gemerk om aan te dui of die dieselkorting daarop van toepassing sou wees.
Die stelsel werk met drukknoppies (tags) sodat selfs drywers met beperkte geletterdheid dit maklik kan gebruik en daar nie maklik skryffoute kan insluip nie. Dit is ook onmoontlik om diesel te tap sonder om die drukknoppies te druk en die uurmeter/kilometerlesing in te tik. Jy kan dus gerus wees dat elke transaksie wel op rekord geplaas word, al is jy nie noodwendig teenwoordig met elke geleentheid nie.
Daar is wel 'n skakelaar wat die stelsel heeltemal kan neutraliseer, maar 'n mens benodig die beheerkas se binne-sleutel hiervoor en dit is tipies onder beheer van 'n verantwoordelike persoon. Die rede vir hierdie skakelaar is bloot dat jy in 'n noodgeval beheer oor die stelsel kan verkry deur dit heeltemal uit te skakel.
Die hart van die stelsel is 'n elektroniese beheerkas, wat gebruik word om data te berg en om 'n klep oop te maak of 'n pomp aan te skakel. Die beheerkas bevat 'n datamodule met data oor bestuurders, voertuie en kostesentra en word ook gebruik om dieseltransaksies te berg. Dit kan prakties onbeperkte transaksies berg, maar moet verkieslik gereeld afgelaai word ten einde meer intydse data te kan weergee.
Nadat jy die data afgelaai het, kan jy regstellings maak en die data aanvul soos nodig, voordat jy verslae daarmee genereer. Die stelsel sal enige kritieke veranderings (bestuurder, voertuig, datum of tyd) onthou, en die oorspronklike oorgelaaide data altyd vir jou vertoon sodat jy kan sien watter veranderings gemaak is.
Die stelsel hanteer voorraadhouding van diesel, deur dieselaankope en voorraadaanpassings te aanvaar, en kan 'n voorraadlynverslag skep wat aan die SAID se vereistes ten opsigte van rekordhouding vir dieselkortingseise voldoen.
Terwyl dieseldiefstal ook 'n groeiende probleem is, speel die stelsel 'n rol in die bekamping hiervan, deurdat elke voertuig se dieselverbruik akkuraat gemonitor word en die stelsel 'n eenvoudige grafiek (sien Grafiek 1) van dieselgebruik kan druk. Hierdie grafiek verklap wisselvallige gebruik met periodieke pieke, wat gewoonlik 'n aanduiding van diefstal is, tensy daar verklarings in die aard van die aanwending van die diesel is (byvoorbeeld ploeg versus spuit). In elk geval is daar groot waarde daarin om met verbeterde akkuraatheid en presisie na brandstofgebruik te kan kyk.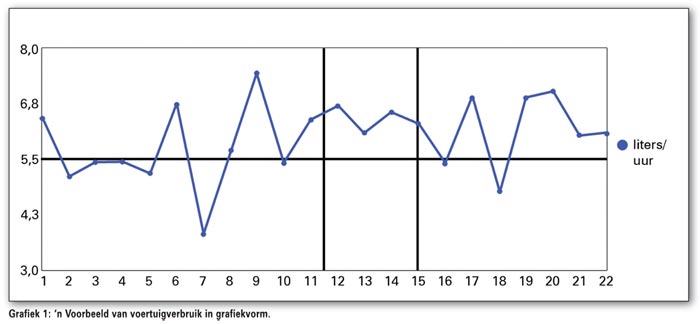 Laastens kan die stelsel alle rou data, sowel as alle verslae, uitvoer na 'n Excel-versoenbare formaat vir verdere verwerking. Verslae kan ook na PDF-formaat geskryf word om maklik per e-pos te kan aanstuur.
Die sagteware kan gestel word om in beide Afrikaans en Engels te werk en word plaaslik ondersteun deur agente wat die installasies hanteer sowel as 'n telefoniese hulplyn wat deur Afriklok bedryf word.
Koste wissel tussen R18 000 en R28 000 volledig geïnstalleer, BTW ingesluit, met die duurder prys van toepassing as die bestaande dieselmeter nie aangepas kan word om 'n elektroniese lesing te kan gee nie en daar dus 'n nuwe elektroniese meter en moontlik 'n elektroniese klep of 'n pomp voorsien moet word.