AKKOMMODASIE vir elke smaak by Oesdag
April 2016

SA Graan/Grain redaksie
Die NAMPO Oesdag, wat deur Graan SA aangebied word, lok elke jaar duisende besoekers na die Bothaville-omgewing. Die mense en gastehuise van Bothaville en omliggende dorpe maak dan hulle deure oop vir besoekers en uitstallers wat na dié hoogtepunt op die landboukalender stroom.
Die gastehuisprojek en tentehotel is twee van die gewildste opsies vir huisvesting waaruit besoekers aan die NAMPO Oesdag vanjaar kan kies.
Gastehuisprojek
Volgens me Hanlie Mouton (skakelbeampte by Bothaville Info) het die gastehuisprojek deur die jare so gewild geraak dat aangrensende dorpe soos Orkney, Wesselsbron, Kroonstad, Welkom en selfs Potchefstroom betrokke geraak het.
Sy sê 'n totaal van 200 gastehuise in Bothaville en die omgewing kan vanjaar akkommodasie aan ongeveer 5 400 besoekers verskaf. Gaste kan uit verskillende graderings kies om by hulle persoonlike smaak te pas – hulle het 'n keuse van 'n goue-, wit-, geel- of groenmielie-gegradeerde gastehuis.
"Ons ontvang jaarliks besoekers vanuit alle uithoeke van die wêreld by die NAMPO Oesdag, wat die grootste landbougebeurtenis op Suid-Afrikaanse bodem is. Gastehuise en eienaars van privaat wonings toon in dié tyd tipiese Vrystaatse gasvryheid deur vreemdelinge in hul huise en om hul etenstafels te verwelkom.
"Besoekers kan ná 'n besige dag by die Oesdag uitsien na 'n heerlike bord kos en warm bad of stort, asook die gasvryheid en vriendelikheid van ons plaaslike gemeenskap," sê sy.
Kontak Mouton by 056 515 3042, 082 396 7556 of hanlie@bothaville.info vir enige akkommodasiebehoeftes of inligting oor die dorp, sy mense en ondernemings. Besoek alternatiewelik Bothaville Info se webtuiste by www.bothaville.info vir meer inligting oor wat elke gradering van die verskillende gastehuise behels.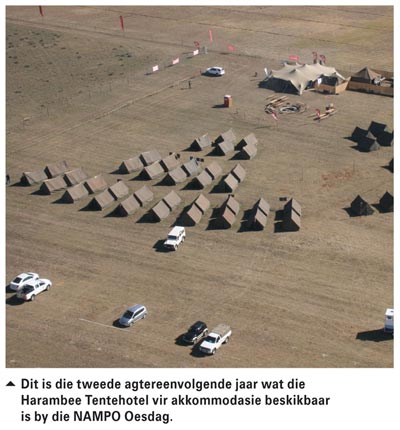 Tentehotel
Me Celia Hattingh, organiseerder van die Harambee Tentehotel, sê dié akkommodasie word reg langs NAMPO Park en binne stapafstand vanaf die NAMPO-terrein opgerig – slegs sowat 300 m vanaf die ingangshek. Gaste kan kies uit verblyf met dubbel- of enkelbeddens.
Die prys sluit ontbyt in en gaste kan aandete bestel indien hulle dit so verkies. Braaigeriewe en 'n kroeg is ook beskikbaar.
"Ons rig ons tentekamp op waar dit ook al benodig word en beplan ons kampuitleg volgens die spesifieke behoeftes van ons gaste en die gebeurtenis wat hulle bywoon. Ons maak seker dat elke tent so gemaklik as moontlik is. Ons luukse A-raam tente word toegerus met 'n dubbelbed of enkelbeddens, 'n tafeltjie langs die bed, 'n lamp, beddegoed, handdoeke en 'n kragpunt vir die herlaai van elektroniese toerusting. Warm storte en gerieflike toilette is beskikbaar.
"Ons maak jou in die oggend wakker met 'n vars beker filterkoffie en tuisgemaakte beskuit. Sodra jy gereed is, bedien ons vir jou 'n warm ontbyt wat volgens jou spesifieke behoeftes voorberei is," vertel Hattingh.
Die Swahili-woord "Harambee" beteken "let us all pull together" en verteenwoordig die groep vriende en familie wat die Harambee Hotel tot stand gebring het.
Sy sê die konsep word deur 'n groep ywerige "ontdekkingsreisigers" bedryf en dit is moeilik om hulle aan 'n vaste adres te verbind. In plaas van 'n fisiese adres, kan die Harambee Hotel op enige plek gevind word waar die behoefte ontstaan om uit te span en te ontspan.
Dit is die tweede agtereenvolgende jaar wat die Harambee Tentehotel by die NAMPO Oesdag beskikbaar is.
Hattingh sê hulle verstaan wat dit beteken om ná 'n lang dag in die stof en hitte terug te kom na 'n gemaklike bed en warm stort.
"Die Harambee Hotel is 'n unieke en luukse kampervaring wat die romanse en genot van kampering vasvat, sonder die beslommernis daarvan om enig iets self te doen." Vir besprekings en meer inligting oor die tentehotel, skakel haar by 082 745 9540, stuur 'n epos aan info@harambeehotel.com of besoek die webtuiste www.harambeehotel.com.
Publication: April 2016
Section: NAMPO