Advantages of soybean production
July 2023

HELEEN VILJOEN,
AGRICULTURAL
ECONOMIST GRAIN SA
Soybeans, as a crop, have many advantages. This includes being an alternative crop for maize production, being a great source of protein for animal feed and being an oilseed that can be used for vegetable oil production.
It is no secret that soybean production has increased significantly over the past three years. Looking at Graph 1, it is obvious that the planted hectares and production of soybean have increased by significant amounts since the 2020/2021 production season.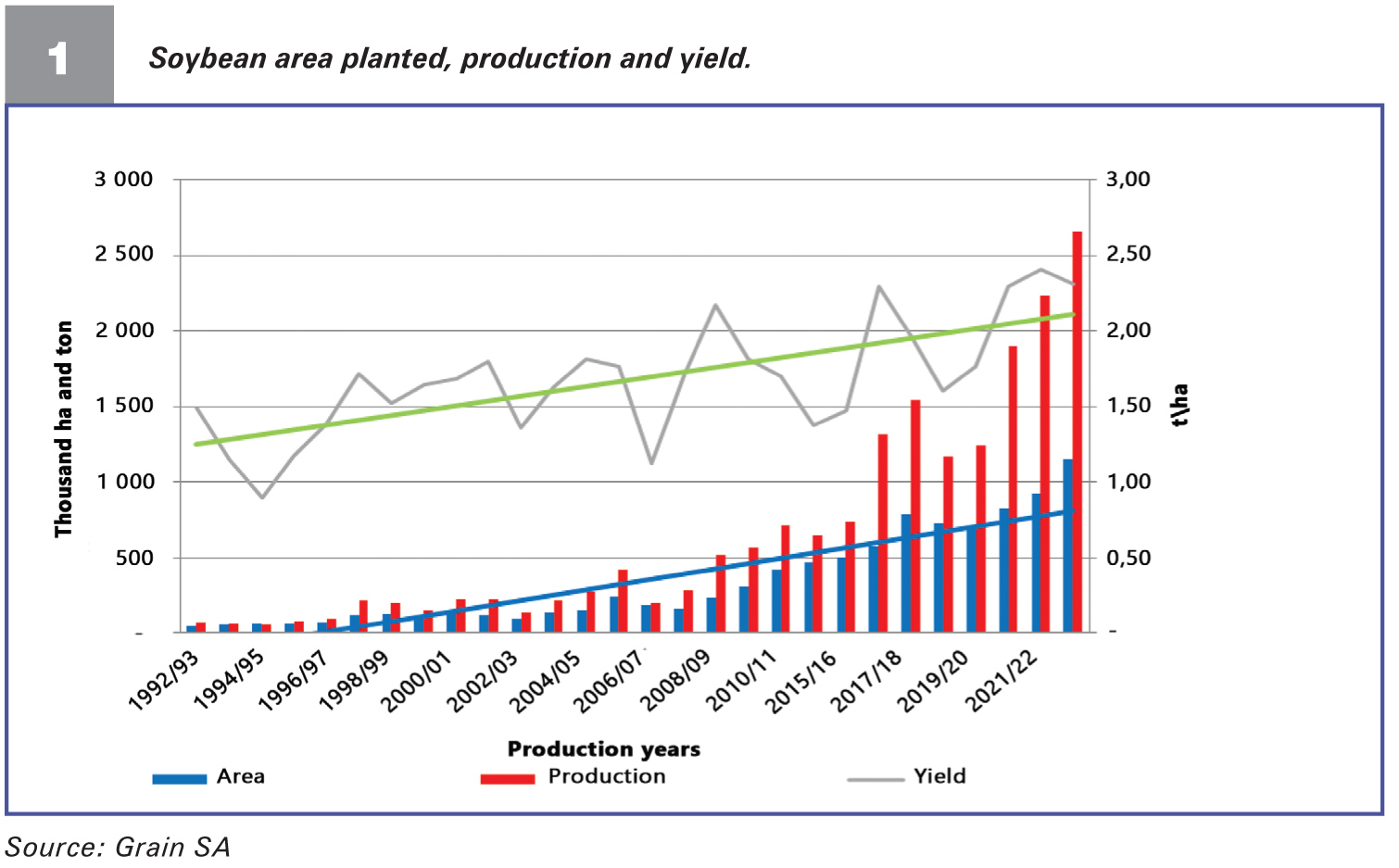 Increases in production can be attributed to many factors, such as new technologies improving yields and excess soil moisture in the western regions that aided the planting of soybeans. Even though production has increased significantly, the total local demand has not followed the same trend – as can be seen in Graph 2. Graph 2 also illustrates the production, total consumption and exports of soybeans.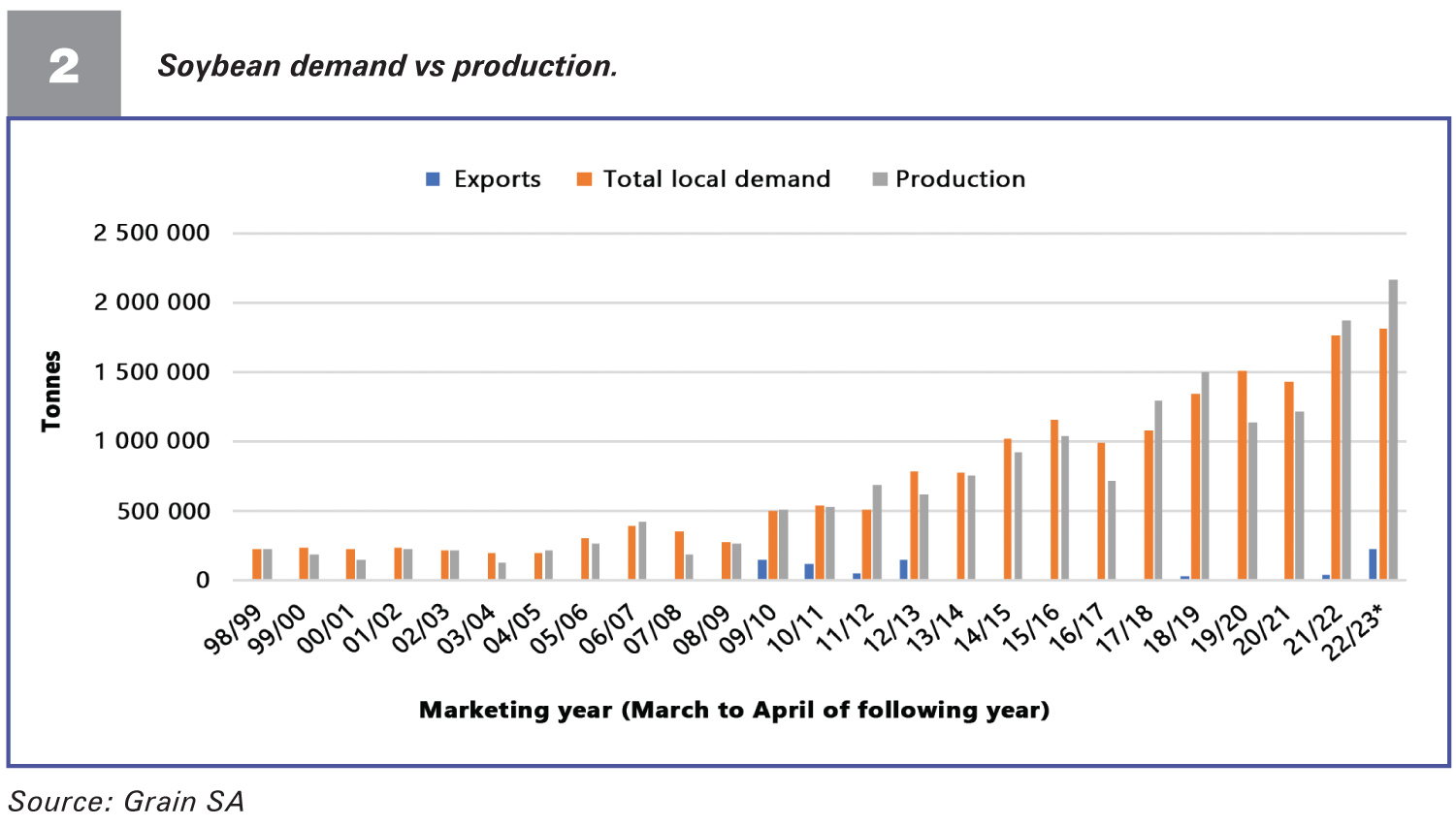 Past trends indicate that the norm for the South African soybean market, prior to the 2020/2021 marketing season, was for local soybean production to be insufficient in meeting the total local demand. However, after the 2020/2021 marketing season, production exceeded the total demand to such an extent that exports were needed. If South Africa did not have the ability to export soybeans, local prices would have felt the pressure.
Graph 3 illustrates the countries to which soybeans have been exported in the 2022/2023 marketing year. The soybean export market is relatively new, and export markets are still being discovered. In the previous season, the biggest portion (91%) of South African soybeans was exported to the East Asian markets. Approximately 230 000 tons of soybeans were exported to these countries, which is a significant increase in exports compared to previous seasons.
It is important that new markets are developed, so that soybean exports continue regularly and the inland stocks remain stable. Looking at the new season, new markets can include Egypt, China, Turkey and Indonesia. The soybean exportable surpluses are expected to again show a significant increase this season, and as such export market development is crucial.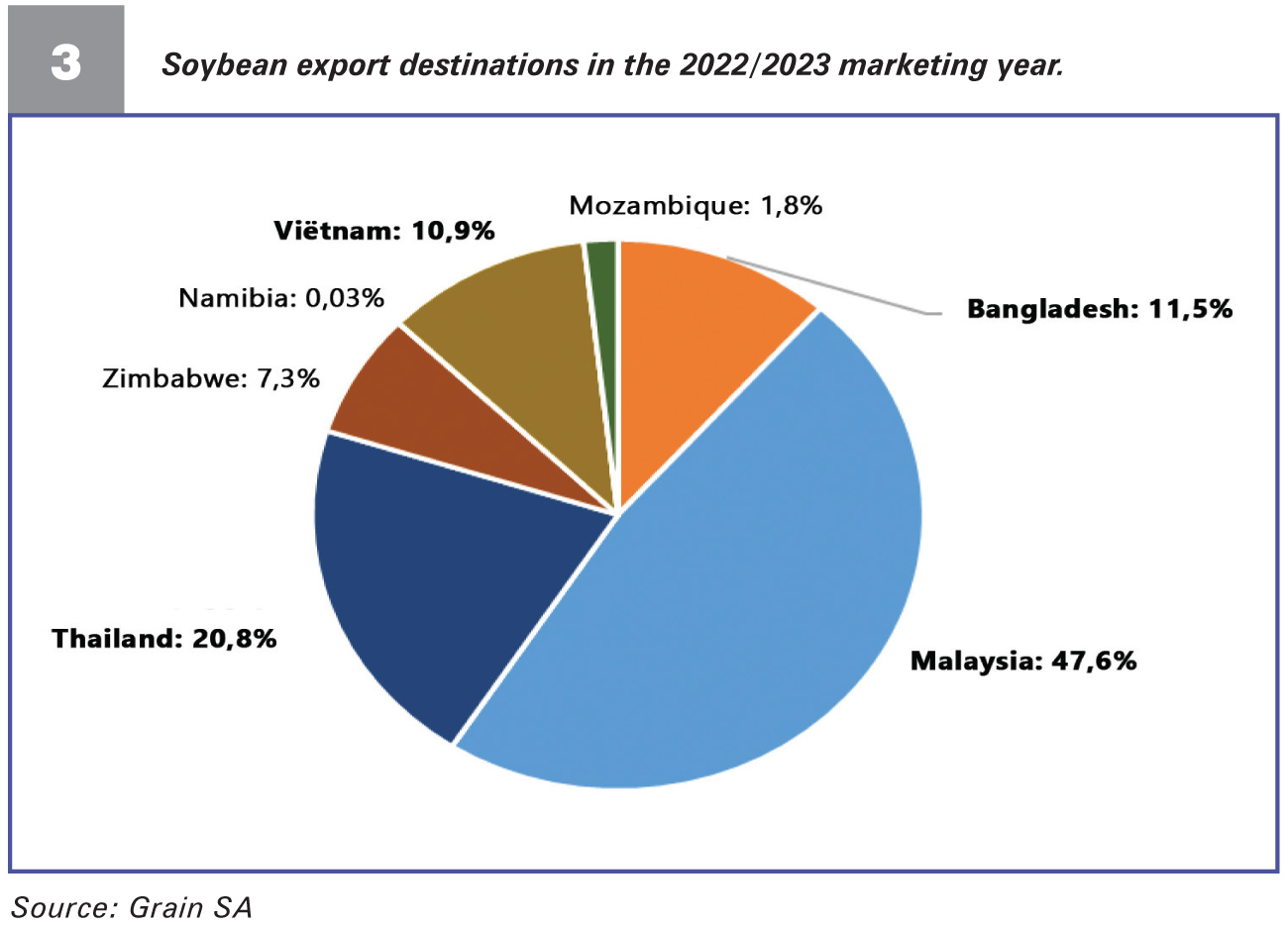 SUMMARY
The soybean industry is growing faster than the local consumption, which creates a build-up of inland soybean stocks. To keep the local supply and demand balance sheet stable, soybean exports are critically important. If South Africa did not have the ability to export the mass amounts of excess soybeans, local contract prices would surely have felt a strong downward pressure.
Looking at the new season, export markets are continuously being pursued and developed. For the 2023/2024 marketing season, which started in March, an exportable surplus of approximately 600 000 tons is anticipated. This exportable surplus will help to keep the pace for the current fast-growing soybean industry.
Publication: July 2023
Section: Pula/Imvula