A word from… Du Toit van der Westhuizen
July 2023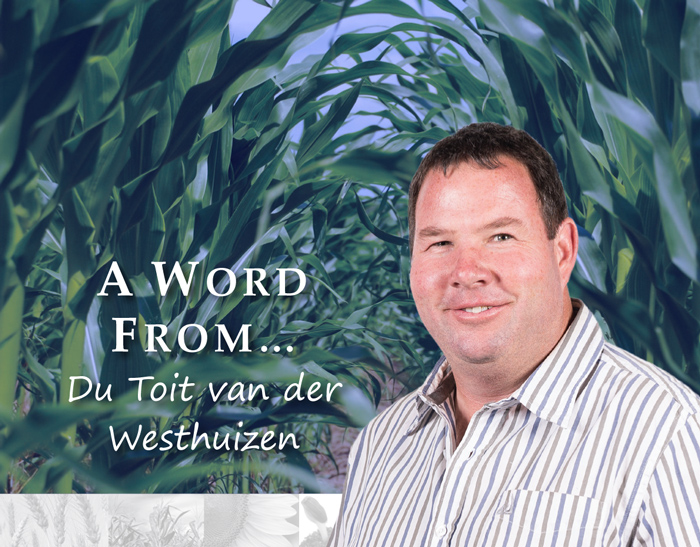 Farming is a calling and not a job, as farmers never know what the next season has in store for them. Therefore farmers have to adapt to situations beyond their control.
This year has been smooth sailing in some of the regions where everything on the farm went quite well, while farmers in other regions had to deal with floods at the beginning of the season and eventually ended up with drought.
In most of the areas everything looked promising until January presented a mid-summer drought period, when some of the crops reached the critical stage of grain filling. This is a typical picture of what farming is – you never know what is going to happen.
At this time of the year, some farmers have completed the harvesting process while others are still hard at work. Now is the time to list all the failures of the past season to ensure that it doesn't happen again in the coming season.
One of the most important agricultural practices is to do proper winter weed control to conserve the soil moisture. The way you farm with moisture, will determine your success in the coming season. Make sure you get the right advice from experts so that you can conserve the moisture – by controlling the winter weeds chemically or mechanically.
Winter weeds are one of a crop farmer's biggest enemies. When you control it properly, you will have an advantage for the coming season and you will be ready when the predicted El Niño reaches us.
Be a wise farmer and be waterwise. Make sure you get rid of winter weeds, as soil moisture is a farmer's friend.
– Du Toit van der Westhuizen is the regional development manager in North West.
Publication: July 2023
Section: Pula/Imvula