A WORD FROM … Dr Sandile Ngcamphalala
January 2022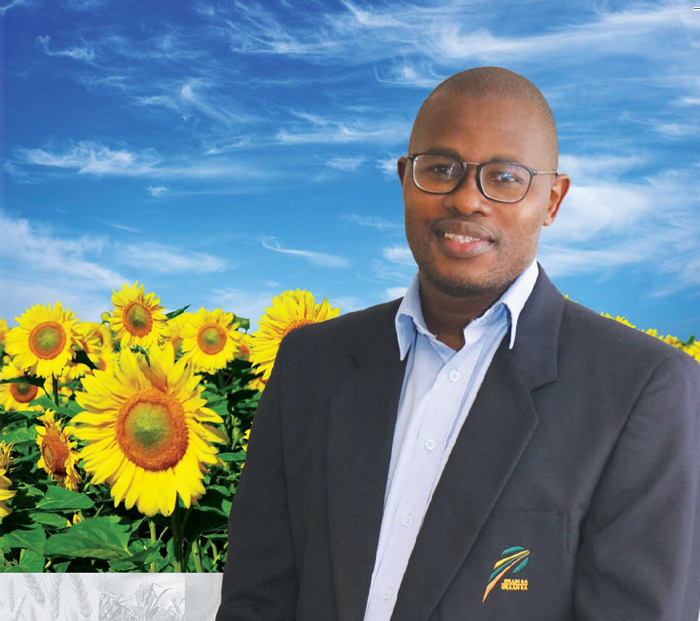 Eight months into the job as the new Farmer Development lead at Grain SA, this is my first planting season supporting grain farmers. I look forward to the many success stories and memories as we grow and learn together.
We are coming out of a great season for most of the farmers in our programme but also many challenges at personal level with so many farmers directly affected by the COVID-19 pandemic. The impact goes further into some of the most unprecedented price hikes on inputs. We've see fertiliser prices for example hike to over 40% year on year between the 2020 and 2021 production seasons. But there is always hope as farmers continue to make effective adaptive plans.
As Grain SA we've committed to go all the way to raise funding and provide technical and enterprise-wide support and mentorship for our developing farmer members. Our vision and strategy is to create sustainable commercial enterprises. Many of the advanced farmers have bought into this vision and are meeting us halfway on loan repayments and ensuring continuous funding and the sustainability of the programme.
There are however farmers that have simply disregarded the call showing absolutely no interest to honour their responsibility for repaying the revolving funds expended to them. As a result, we've removed a sizable number of farmers from the programme.
We have committed to support sustainable growth and we can't achieve that if we don't have succession plans in place (that is bringing in a younger member of the family into the business) at least for all the farming enterprises we support. While we look at succession, we are also keen to identify and support women farmers.
Indeed different funders have a different focus and interest overall. Our task is to identify partners that are well aligned. The grant system for example is crippling our efforts to creating responsible agribusiness men and women. This is a team effort – we will continue to pursue funding opportunities on your behalf, but we expect you to farm and farm well. I wish us all a great season.
Publication: January 2022
Section: Pula/Imvula