A new approach to agri training
March 2018

RUTH SCHULTZ, SA Graan/Grain editorial team
In 2012 Villa invested in training by opening the Villa Academy. Over time Villa realised that the training model they were using could be improved by Villa Academy becoming a registered teaching institution and obtaining accreditation for its training courses.
Villa realised that they needed a partner and in 2017 they joined forces with Monash South Africa (MSA). MSA is a leading international private higher education provider in South Africa, with students from more than 65 countries. They are well known for their exceptional academic quality and the success of their students.
According to Dr André Schreuder (former CEO and current Villa consultant), who addressed guests at the launch of this partnership in November last year, a total new approach to training in South African agriculture is needed. 'A lot of the industry bodies spend a lot of time on farm worker training, but there is no career development path with this approach. To have an agricultural degree is acceptable, but we need applied training that includes practical and management training,' he said.
He strongly believes that we should stop accepting the status quo and start to apply disruptive thinking. 'Everybody believes training is the responsibility of the government. We need to do it ourselves. Stop complaining that agriculture is not up to standard.'
You don't need the expensive infrastructure of agricultural colleges for training. 'A university in the Netherlands uses a different training model: Contract your lecturers, instead of using permanent lecturers; make use of distance learning – everything does not have to happen in a classroom; use commercial producers' land and knowledge – you don't need your own in-house farm to do training on; use practical experience at the workplace and study and work at the same time,' he explained.
According to Schreuder, the best training model for South African agriculture is to finish Grade 12, following which one can make use of distance learning, while attending contact sessions and completing farm specific projects. One then repeats the process of distance learning. 'The traditional approach to training (where you finish Grade 12, go to university/college and then start working) is not relevant anymore,' he said. The second part of the model is to attain technical and management skills required to make an immediate difference in the workplace.
Schreuder concluded his presentation by highlighting the advantages of the Villa/MSA partnership, where an internationally recognised higher education provider and industry role-player joins forces to make a difference in training and skills-based learning. The focus of the partnership is specifically on supporting people working in the agricultural sector to increasingly provide better access to training, through accredited courses, certificates, diplomas and degrees. Villa has a network in local agriculture as well as access to Winfield via Land O'Lakes, which, combined with the initiatives of MSA, complement each other.
He emphasised the importance of creating a 'home' for our lecturers in an academic institution, so that we can utilise their experience and build the next generation for the agricultural industry. 'We have highly experienced people in this industry, but we need many more for growth and sustainability.'
'Bridging the agricultural skills gap'
'According to the 2017 World Economic Forum Report the skills gap at secondary school level is huge. Secondary school graduates do not possess, on average, the skills employers demand from a productive workforce. Industry entrants fresh out of university often require inordinately long adjustment periods and upskilling in order to cope with the challenges of the workplace,' Dr Charlie Reinhardt (dean, Villa Academy) said.
Dr Reinhardt added that the partnership between Villa and MSA will go some distance to bridging not only the funding gap, but also the skills gap.
Prof Alwyn Louw (chief executive officer and president, MSA) elaborated on MSA's growth strategy to build a comprehensive institution and relevant business model for South Africa. 'The four parts of the model consist of: Diversifying qualification types and products, appealing to a wide range of students (including working professionals), expand executive education programmes to new geographic locations in South Africa and reaching into South Africa and Africa with training enhanced through online/distance-based support,' he explained.
Prof HB Klopper (director: Executive Education and Short Learning Programmes, MSA) said that through the future training agenda they want to create more awareness of the vast number of agri-business and entrepreneurship careers that exist along the entire food and nutrition value chain. The measure of success is the impact of training undertaken, with a view of making a difference in the country.
'A distorted image of agriculture as an academic discipline and career, as well as career guidance that is very limited or totally lacking in some instances, are two of the social cultural barriers in South Africa hindering access to agricultural education and training,' Prof Klopper concluded.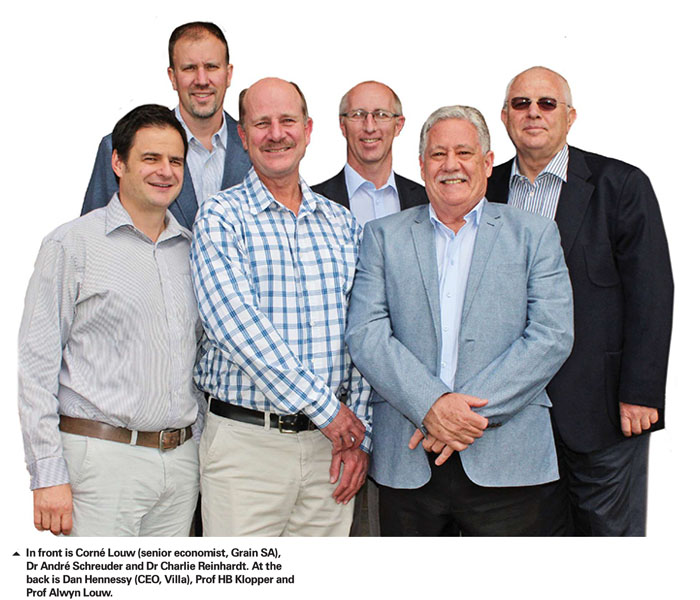 Publication: March 2018
Section: Relevant