A celebration of gratitude for top grain farmers
January 2023

VALERIE CILLIERS, EDITOR,
SA GRAAN/GRAIN
The 2022 Grain SA Grain Producer of the Year awards event was held on 21 October in Boksburg. It was a glamorous event, where well-deserved recognition was given to role-players who are directly and indirectly involved in ensuring that grain production in South Africa remains sustainable.
21ST WINNER
The vice-chairman of Grain SA, Richard Krige, welcomed the guests to the event, where the title of Grain Producer of the Year was awarded for the 21st time. This special award went to André Brink from Durbanville in the Western Cape, who is an extremely effective South African grain producer. He is not only a true role model in his community but has also mastered the art of promoting profitable and sustainable grain production.
Upon receiving the award, André summed up the theme of the grand event, 'A celebration in gratitude', perfectly when he said: 'It is events like this that become a mirror image of agriculture in South Africa. We celebrate the pleasure of still being able to farm and are grateful for an organisation like Grain SA that takes hands with us.' The other two finalists in this category, Gideon Koegelenberg from Makwassie and JP Meintjes from Viljoenskroon, were also honoured for their contribution to agriculture during the event.
Derek Mathews, chairman of Grain SA, congratulated the finalists and said: 'I am incredibly proud of the producers in South Africa. Those producers can dig deep, even in difficult times – we honour them today for their leadership and inspiration.'
Antonie Delport, managing director of Syngenta, the main sponsor of the evening, said in his keynote speech that agriculture should be celebrated more often. 'We are inspired by the world's producers, who feed a growing world population, contribute to reducing poverty and manage natural resources. Agriculture needs partnerships for specific, well-focused projects and programmes,' he added. 'As we all have to eat, we celebrate agriculture and the contribution it makes in communities – not just in South Africa, but around the world.'
Dr Pieter Taljaard, chief executive officer of Grain SA, summed up the evening by saying that agriculture in South Africa has beautiful stories to tell. According to him, the stories of outstanding producers such as those celebrated during the awards event are an example of what agriculture can and has already achieved. The awards event was truly a celebration in gratitude.
DEVELOPING FARMER WINNERS HONOURED ONCE AGAIN
Another highlight of the ceremony was the introduction of the category winners in each section of Grain SA's Farmer Development programme. These winners were announced at the Day of Celebration in September, an occasion where Grain SA gives acknowledgement to all farmers for the hard work they put in throughout the year.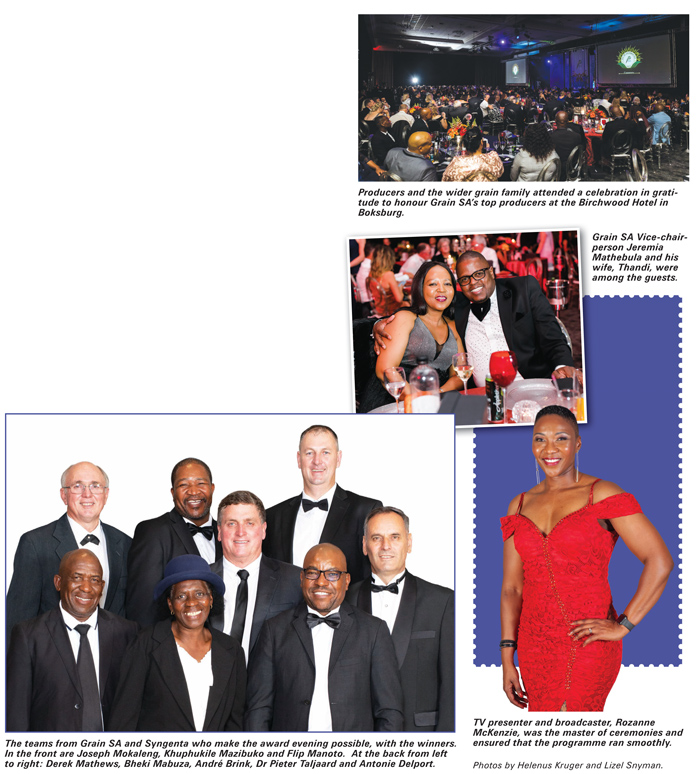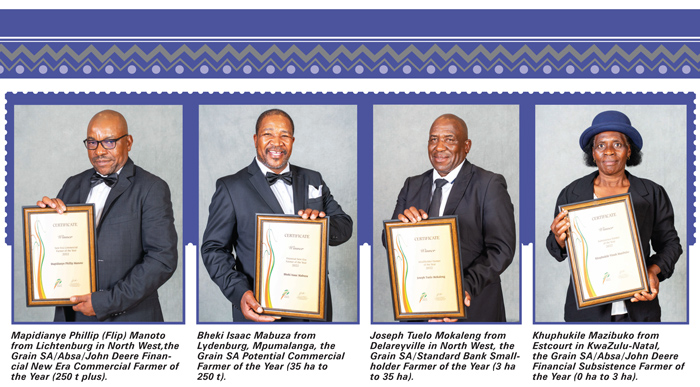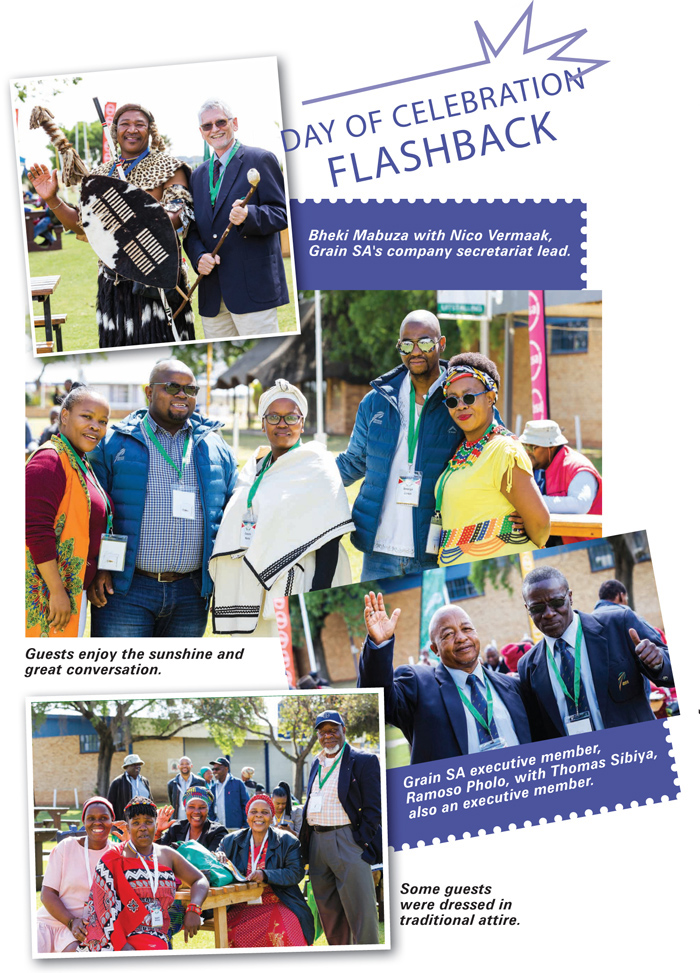 Publication: January 2023
Section: Pula/Imvula