...and the 2016 FARMER OF THE YEAR award goes to...
July 2016

The saying: 'It isn't the farm that makes the farmer, it is the love, hard work and character', will once again be evident when Grain SA hosts the annual Day of Celebration on 22 September 2016 in Bloemfontein.
At this event Grain SA will acknowledge the success of our developing farmers with the Farmer of the Year competition.
This competition consists of three categories which creates a platform for all types of farmers to compete fairly.
The three categories are: The Subsistence Farmer of the Year (farming on 0 - 10 hectares); the Smallholder Farmer of the Year (farming on anything from 10 hectares, but producing less than 250 tons of grain); and the New Era Commercial Farmer of the Year (producing more than 250 tons of grain).
The New Era Commercial Farmer of the Year finalists are…
Maseli was born in 1950 in Bethlehem and spent his entire childhood there. On 22 July 1997 he tied the knot with Maleteam who unfortunately passed away in 2010 and together they had four children.
Maseli completed his schooling in Bethlehem and furthered his studies at Tshiya Teachers Training College. In 1997 he received his Senior Degree in Education at the University of the Free State, specialising in Leadership and Management. He worked for the Department of Education for 23 years and held different positions over the years – he resigned as Headmaster in 1998. Maseli has never worked on a farm, but his passion for agriculture sparked his interest in this field. He started his farming journey with a few cattle, which he kept in his village yard, and later became a member of the communal grazing (in the times of QwaQwa homeland). After he resigned he bought himself a piece of land (209 ha) from the Land Bank – unfortunately because of an unpleasant partnership he had to sell this land in 2008. Since then has been leasing land from one area to another area on a contractual basis. Maseli joined Grain SA and attends the farmer days, study group meetings and has also attended a few training courses organised by Grain SA as well as a few at the University of the Free State. He is also involved in different community projects which include amongst others; being a founder member of NEPRO; serving as a trustee of the Winter Cereal Trust; being the vice chairperson of the newly established GFADA (Grain Farmer Development Association); and he is also a member of the executive committee of Grain SA.
Although he doesn't have his own land that can serve as collateral when the needs arise (for example, financing, mechanisation and a reasonable interest rate for input financing), Maseli would love to expand in terms of volumes, so as to be an international competitor.
Frans Tshepo Mokoena
Frans was born on a farm which was part of communal land, in the Thaba Nchu District, in the former Bophuthatswana. His father had three older children from a previous marriage and he was the only child from the second wife. He is married to Agnes and they have two daughters. Frans attended school at Louwfontein near Thaba Nchu and had to walk over 25 km per day to attend school. He only completed Standard 4 (Grade 6) as there was no money to send him to another school for further schooling.
For all of his life, Frans has been a farm child worker and farmer on his father's farm as well as his own land. This is all he knows and all he ever wanted to do and still wants to do. On his father's farm they planted maize and fodder for the dairy cattle and sold the milk in Thaba Nchu. Frans grew up working on the farm and can still remember, as a very small boy, getting up at 04h00 in the morning to fetch the cows, milk them and take them to the field to graze, then loading the milk on an old Toyota pick-up, for his dad to sell. They would then attend school, came back and feed the cattle, milk them and do other farm work. He was very young when he started to drive a tractor and plough the lands.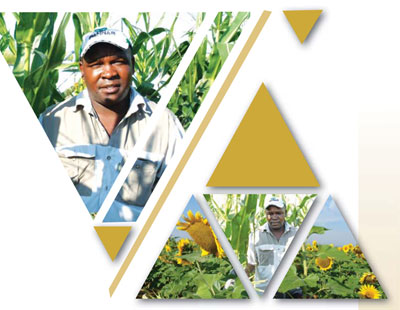 Frans grew up with the sounds and smells of a farm in his nose and ears. He grew up on a farm, working on a farm and knowing that life starts on a farm. They never had a lot of money, but he never went to bed hungry – tired sore feet maybe, but never hungry. His mother passed away in 2000 and he took over looking after her chickens.
Unfortunately his father died in 2001 and all of a sudden he was all alone and responsible for the animals and the crops. He was 21 years old and alone. He carried on in the same way his father taught him – by only living with the basics, he saved money and purchased more dairy cattle. In 2006 Frans realised that he had outgrown the small farm and leased more communal land in Thaba Nchu. In 2006 he heard a broadcast on Lesedi FM of a Grain SA meeting that was to take place in Ladybrand. He went and joined the Grain SA Farmer Development Programme and started attending study group meetings, training courses and farmer days. Frans is a member of the Grain SA (500 Ton Club) and the Ladybrand Study Group. He is also a member of NERPO and AFASA. He has seven permanent workers who have attended training presented by Grain SA. Frans faces challenges such as not having sustainable production capital, climate change, and high costs of input, but he believes in the future of farming in South Africa and is excited to be a part of it.
Zondiwe was born on 5 August 1949 in Boksburg and grew up in Middelburg. He got married to Florence in 1970 and they were blessed with five children, unfortunately two of the children have passed away.
He started his primary schooling in 1956 and completed high school in 1966 and started his training as a teacher at Botshabelo Training College. Zondiwe started his teaching career in 1970 in Middelburg and in 1973 he left teaching and started working as a Training Instructor at Eskom. In 1975 he started working as a Training Officer for Hadgerand Still Company, which he left in 1982. Zondiwe then started his career with Cullinan Holdings as a Public Relations Officer. In 1993 he bought a service station and in 2001 he bought a second service station, which is run by his daughter. In 1995 he started a piggery which he is still running today. His interest in agriculture started as a hobby but he then realised that he could actually make a living by planting maize. Somehow agriculture is in his blood as his father was also a farmer.
In 2006 Zondiwe rented 115 hectares arable land to plant feed for his pigs. In 2011 he rented another 124 hectares arable land. He then joined Grain SA and in 2010 he became one of the advanced farmers. His biggest challenges involve the drought, the markets issues and storage. Zondiwe realises that challenges don't last forever and in the future he would rather own his own farm then rent, and he would also love to help post-graduate students with in-service training. Meet this year's Smallholder Farmer finalists.
---
Meet this year's Smallholder Farmer finalists
Thembelihle Tobo
Thembelihle Tobo was born on 12 December 1963. He started school at Ndunge JSS, and then proceeded to Ngalonkulu High where he obtained his matric in 1983. Currently he is registered at the University of South Africa, doing his BA degree in Criminology. Thembelihle and his wife, Nolundi got married in 1992 and together they have six children.
In 1986 Thembelihle joined the military and attained his captain's rank. He left the military in 1996 and started Delta Electrical which is a contracting business. He developed an interest in farming in his early years, and started farming with maize and livestock in 1996. Currently he is the chairperson of the Ndunge Study Group and most of the study group meetings are held at his homestead. Thembelihle has attended various training courses with Grain SA and is involved with helping in agricultural activities. He is also responsible for organising meetings for study group members as well as conducting farmer days and he also responsible for maintenance of trials.
He faces challenges such as a lack of infrastructure; and also believes that the chief's land is not organised the way that it is supposed to – to make sure that farming is taken forward. The biggest challenge faced, is the availability of land, but Thembelihle believes that if the Bizana farmers can work together they can be seen or recognised as the basket of South Africans in any crop production. He believes that he is going to reduce poverty through agricultural activities.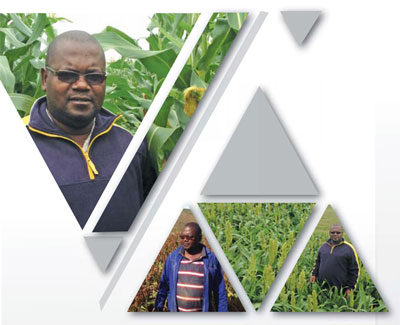 Sizwe was born in 1985 in Wakkerstroom and grew up in Driefontein. In 2008 he married Lindiwe and together they have six children. He started his primary level in 1991 at Isibanisezwe Primary School and went on to complete his matric at Vukubone High School in 2003. From 2004 to 2007 he worked on his father's farm as a general farm worker where he did all the work on the farm and looked after his father's livestock and also assisted his sister in the tuck-shop, which his father owned.
His interest in agriculture started at an early age as he was always helping his father on the farm, and in 2008 his father decided to give him 50 hectares of arable land on which he is currently farming. Sizwe joined Grain SA in 2011 and is an active member of the Donkerhoek Study Group. He is involved in various community projects and is currently the vice chairperson of Kaluka CPA. (A farm they are currently planting on).
Sizwe plans on improving his operations in cropping and adding more livestock in the future. Drought and the shortage of implements seem to be a challenge to him, but he believes that he can overcome them.
His biggest challenges seem to be finances and the problem of transporting his maize over a long distance to a silo at Overvaal, but that doesn't stop his dream. Hamu wants to grow and plant more than 100 hectares in the near future – he started by planting one hectare and he grew to plant 18 hectares using his own funds.last forever and in the future he would rather own his own farm then rent, and he would also love to help post-graduate students with in-service training.
Hamu Samson Shuwisa
Hamu Samson Shuwisa was born on Eendjie Scheepers' farm, Goedehoop, in the Sheepmoor area. He married Elizabeth in 1970 and they were blessed with seven children. He worked on a farm for 50 years before he moved to the Nooitgedacht farm near Sheepmoor. Hamu attended Mabuzi Primary School, where he completed his Grade 1.
As a young boy he started to work on a farm to help support his parents. He became the head boy on the farm and had to look after the cattle and sheep. He soon became the tractor driver and later became the truck driver for his employee and was sent to deliver loads in places he had only heard of before. Hamu always had an interest in farming and especially in the soil when helping his father to plough. At a young age he bought his first cow and today he is the owner of 120 cattle. He also believes it is much better to be involved in agriculture than to go and look for work in the city. Hamu's breakthrough in agriculture was in 2009 when he decided to plant not only for himself but also to sell his extra maize. He has been part of Grain SA since 2011 and has attended various training courses and has also been the chairman of the Grain SA Study Group for the past seven years. Hamu is eager to help other farmers in the area with knowledge to plant their fields.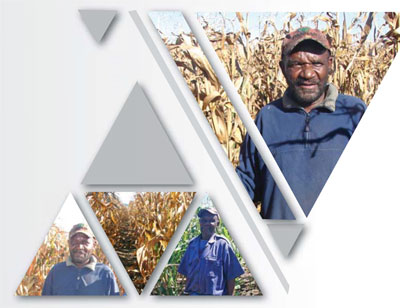 ---
Mzwayi, Delisile and Isaac in line for Subsistence Farmer of the Year award
Mzwayi Zuma was born on 9 May 1950 and grew up in Estcourt in the area of Ehlathi elikhulu kaMKhize. In 1976 he married Goodness Celiwe Meyiwa, and they were blessed with nine children. Currently one of his daughters is selling maize in Estcourt. Mzwayi attended Mkhize School in Estcourt, where he completed standard 2 (now grade 4). In 1970 Mzwayi started working as a gardener at a local school, and in 1984 he was promoted to assisting with the paper work, in most of the cases making photocopies.
He was raised by both his mother and grandmother and almost everything involved agriculture and this is where his interest in agriculture stems from. After his mother and granny passed away he carried on with the garden they had. In 2002 Mzwayi joined Grain SA.
In the near future Mzwayi would like to purchase a farm with more space, which will help him not to worry about the livestock eating the crops. He would also like to see his children continue being involved in agriculture and with what he is doing. The challenges Mzwayi faces involve the fact that people crawl under the fence and steal his crops. Another challenge he faces is that the community does not keep their livestock out of his fields, so the crop ends up being damaged. Mzwayi believes that agriculture is life and nothing can happen without it.
Delisile Thilda Nkosi
Delisile was born on 11 September 1967 and grew up on the farm Emachobeni near Sheepmoor. She got married in 1985 to Philangani and has three children. Delisile has stayed on the farm all of her life. She started her primary level education at Hlalisane Primary School when she was six years old, and completed standard 5 (now grade 7). Unfortunately she couldn't attend high school due to circumstances at that particular time.
Delisile started working as a domestic worker, helping her mother, when she was about 14 years old and she later started to work in the fields where she gained valuable agricultural experience. While growing up she was mainly interested in maize production, as the farmer her mom used to work for used to plant a lot of maize. Before the Department of Agriculture bought them their current farm she worked as a farm worker for four years. In 2012 she joined Grain SA and attends study group meetings regularly. She teaches other farmers how to plant no till maize and also helps them to use their chemicals correctly; she also takes care of the community's cattle on her farm.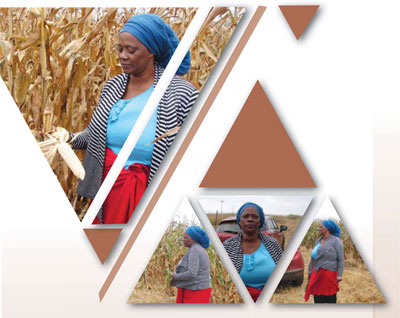 There is lack of equipment and her finances are her biggest challenge as she has to hire a contractor. Delisile looks past her challenges and states that she would love to start an irrigation system on their farm as the current one is not working because of the pipes being stolen. She would like to use the existing irrigation to plant maize and vegetables.
Isaac Hlatshwayo was born on 11 April 1954 at Blekeni near Piet Retief and he grew up there. He married Rinah Sizakele Nkosi in 1979 and they were blessed with eight children. Although he never attended school he knew that he wanted to make something out of his life.
When he was 20 years old he started working on a farm for five years, he thereafter went to Johannesburg and worked at a company called Clicks Engineering for twelve years, he then went back and started farming at Hereford. Isaac grew up with farming and also worked on a farm for many years, he thus developed an interest in farming. When he left Johannesburg in 1995, he started farming with beans and maize. In 2004 Isaac joined Grain SA and attends workshops, farmer days and training organised by the Farmer Development office.
The drought as well as financial assistance has been a big challenge for him, but Isaac is a church member and believes that everything will work out in the near future. He wants to have his own farm, with his own farm machinery. Isaac believes that he will in future be able to help other farmers with their farming.
Article submitted by Pontseng Monnane, report writer and office administrator,
of the Grain SA Farmer Development Programme.
For more information, send an email to pontseng@grainsa.co.za.
Publication: July 2016
Section: Pula/Imvula