'n Tolhek te koop
May 2016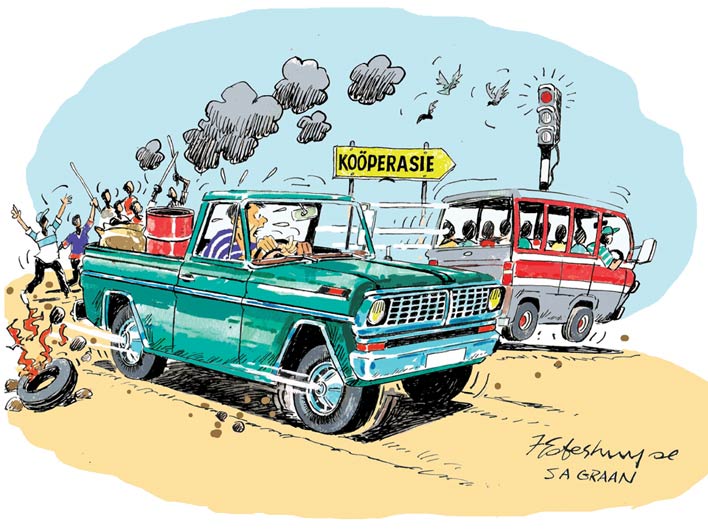 Beste Grootneef,
Dit lyk of enigiets deesdae te koop is. Van 'n Kabinetspos tot 'n tolhek. 'n Stukkie Prasa-lokomotief of 'n lekker sappige tender is ook nie te versmaai nie.
Ons Suidland se geskiedenisboek raak nou só vol kladmerke van floppe en ooreenkomste onder die tafel deur, dat jy sukkel om die teks te lees. Die storielyn het so 20 jaar terug nog 'n klokkie gelui van 'n beter lewe vir almal, met 'n veilige hawe vir 'n ieder en elk. Nou lyk dit of almal gelyk is, maar dat sommige mense meer gelyk is as ander, alias oom George Orwell.
Maar die storielyn word al hoe moeiliker om te lees. Dit is asof die bak vir dié wat niks het om te verloor nie, al hoe swaarder weeg. En die skaal afswaai na waar vrees vir 'n brandende band groter gewig dra as respek en die reg.
Van 'n doktorsgraad tot 'n visgraat is nou te koop. Ek lees in die dagblad dat jy selfs die dienste van 'n "profeet" kan aankoop om te help met alles onder die son – van jou verstandtande wat uitval tot die perd waarop jy moet wed. Wenke oor jou liefdeslewe is by die fooi ingesluit. En dié man moet 'n bestaan maak, sy advertensie is immers week na week op dieselfde plek!
Ou Neef, ons kort só dringend 'n hand vol hoop. Net so bietjie, om almal weer te laat moed skep. Net een vrou wat kan opstaan en sê dat sy nie "geGupta" is nie. Of het ons almal al so afgestomp geraak oor wat reg en verkeerd is, dat niemand meer by 'n stopteken stop nie?
Die moeilikheid is dat mense wat goed afbrand en beelde in visdamme gooi, bome se take afbreek en klippe deur ruite slinger, niks het om te vrees nie. En bewaar jou as jy met jou bakkie deur 'n optog by die koöperasie moet uitkom. Die spaarwiel en draadloos se aerial is nou nog soek. Wat pla is dat wanneer die stof na die optog gaan lê en die rook uit die afgebrande gebou trek, daar geen gevolge is vir die hand wat die petrolbom gegooi het nie. Niemand word aangekla omdat hulle kultuurgoed verniel nie. Het Hitler se bruinhemde nie ook skilderye verbrand nie?
Die resultaat is dat die kwaad deursuur. Want as een taxi soos die duiwel oor geel strepe jaag en die "spietkop" hom nie vang nie, begin die res van die karre om ook met dieselfde aggressie en domastrantheid bane te wissel, maak nie saak wie die reg van weg het nie. En só gebeur dit dat selfs gemoedelike mense wat Sondae na kerk tee skink, in 'n aggressiewe bondel agter 'n stuurwiel verander.
Buurman se wens is eenvoudig maar gewigtig. Dat die klomp wat staak, dit net so doen dat hy met sy lewe kan aangaan. Die donker spook van intimidasie is egter los. Gemoedelike samesyn word verweer met intense wantroue – tot op die kleinste ou dorpie.
Ou Neef, nou moet ons hakke inskop met matelose geduld, om werklik te luister en te hoor; om daar waar dit moontlik is, 'n verskil te maak. Elke goeie daad bou 'n langtermynverhouding. Een kwaadwillige aksie vernietig egter in 'n oogwink 'n leeftyd se welwillendheid.
Groete op die Oosgrens. Hou 90 en hou links!
Kleinneef
Lesers is welkom om 'n e-pos aan Kleinneef te stuur by kleinneef@graingrowers.co.za.
Publication: May 2016
Section: Features