'n Beheerstrategie vir mieliestreepsiekte
September 2016

DIRK UYS, Bayer
Gedurende die afgelope seisoen was mieliestreepsiekte weer prominent in besproeiingsgebiede soos Thabazimbi en Vaalharts. Dit kan toegeskryf word aan die droë seisoen, gekoppel aan besondere hoë bladspringerdruk. Dit is dus belangrik om hierdie siekte te verstaan.
Mieliestreepsiekte is 'n inheemse virus wat deur die bladspringer versprei word. Hierdie virus is reeds in 1901 deur Fuller aangeteken.
Simptome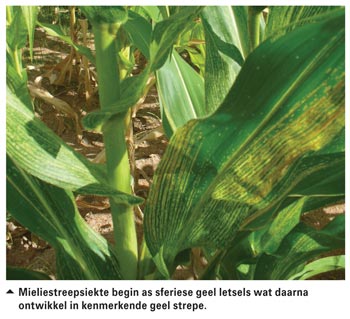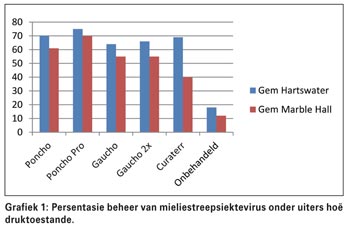 Mieliestreepsiekte begin as sferiese geel letsels wat drie tot ses dae na besmetting plaasvind. Dit ontwikkel daarna in kenmerkende geel strepe (Foto 1). Hierdie besmetting beweeg slegs opwaarts in die plant. Hoe vroeër besmetting plaasvind, hoe groter is die potensiële opbrengsverlies.
Oorsaak
Die mieliestreepsiektevirus is 'n sirkulêre virus wat deur bladspringers versprei word. Die belangrikste draer is Cicadulina mbila, maar daar kan ook 'n hele paar ander Cicadulina-spesies betrokke wees by die verspreiding van die virus.
Hierdie vektore oorleef op verskeie grasspesies wat koring, gars, sorghum en hawer insluit, asook 'n verskeidenheid grasonkruide, waaronder Brachiaria spp., Chloris spp., Cynodon spp., Digitaria spp., Eleusine spp., Paspalum spp., Pennisetum spp., Setaria spp. en Sporobolus spp. (Rose, 1978).
Wyfie-bladspringers lê hul eiers in die blaarweefsel van die gasheerplant. Onder gunstige omstandighede broei die eiers uit, wat dan op die vaatweefsel voed, die virus opneem en sodoende versprei (Ramusi, M & Flett, B. 2012).
Besmetting vind baie vinnig plaas wanneer die bladspringer op 'n besmette plant voed. Die virus word versprei deur die speeksel van die bladspringer wanneer hy op die mielieplant voed. Die mieliestreep siektevirus kan binne 15 sekondes deur die bladspringer opgeneem word en kan 'n volgende plant binne vyf minute besmet.
In hoëdruk-bladspringertoestande gebeur dit dat die drempel baie vinnig bereik word. Bladspringerverspreiding word deur omgewingstoestande (soos vog en temperatuur) en die beskik baarheid van gasheerplante bepaal.
Cicadulina mbila word gekenmerk deur sy vermoë om lang afstande te vlieg, sou sy gasheerplante skaars raak. Twee tipes liggaamsvorme word onderskei, naamlik: 'n Kortlyf- en langlyftipe. Die kortlyftipe kan lang afstande vlieg.
Beheer
Geen gewasbeskermingsmiddel is teen streepsiektevirus geregistreer nie. Daar is wel gewasbeskermingsprodukte wat blad - springer beheer, insluitend Poncho® 600 FS, Poncho Votivo 600FS en Curaterr®.
Hierdie produkte beheer slegs die verspreiding van die insek en besmetting kan steeds voorkom omdat die insek op die gewas moet voed om die aktiewe bestanddeel in te neem.
'n Geïntegreerde strategie word daarom voorgestel, wat insluit:
Vermy aanplantings naby grasse soos koring en gars.
Vestig 'n groen-breek indien moontlik.
Pas grasonkruidbeheer in en om die land toe.
Plant streepsiekteverdraagsame kultivars.
Vermy vroeë en laat aanplantings.
Verwysings
Bosque-Perez, A. 2000. Eight decades of maize streak virus research. Virus Res., 71 (2000), pp. 107 - 121.
Ramusi, M & Flett, B. 2012. Transmission of maize streak virus from grasses to maize. SA Graan/Grain, October 2012.
Shepherd, DN, Martin, DP, Van der Walt, E, Dent, K, Varsani, A & Rybicki, EP. 2010. Maize streak virus: An old and complex 'emerging' pathogen. Mol. Plant Pathol. 2010, Jan 11(1): 1 - 12.
Rose, DJW. 1972. Times and sizes of dispersal flight by Cicadulina spp. vectors of maize streak disease. J. Anim. Ecol. 41, 494. Poncho Votivo (Reg. nr. L 9363, Wet 36 van 1947) van Bayer bevat clothianidin en bacillus firmus (versigtig).
Poncho (Reg. nr. 8581, Wet 36 van 1947) van Bayer bevat clothianidin (versigtig).
Publication: September 2016
Section: Focus on