The Corner Post
October 2022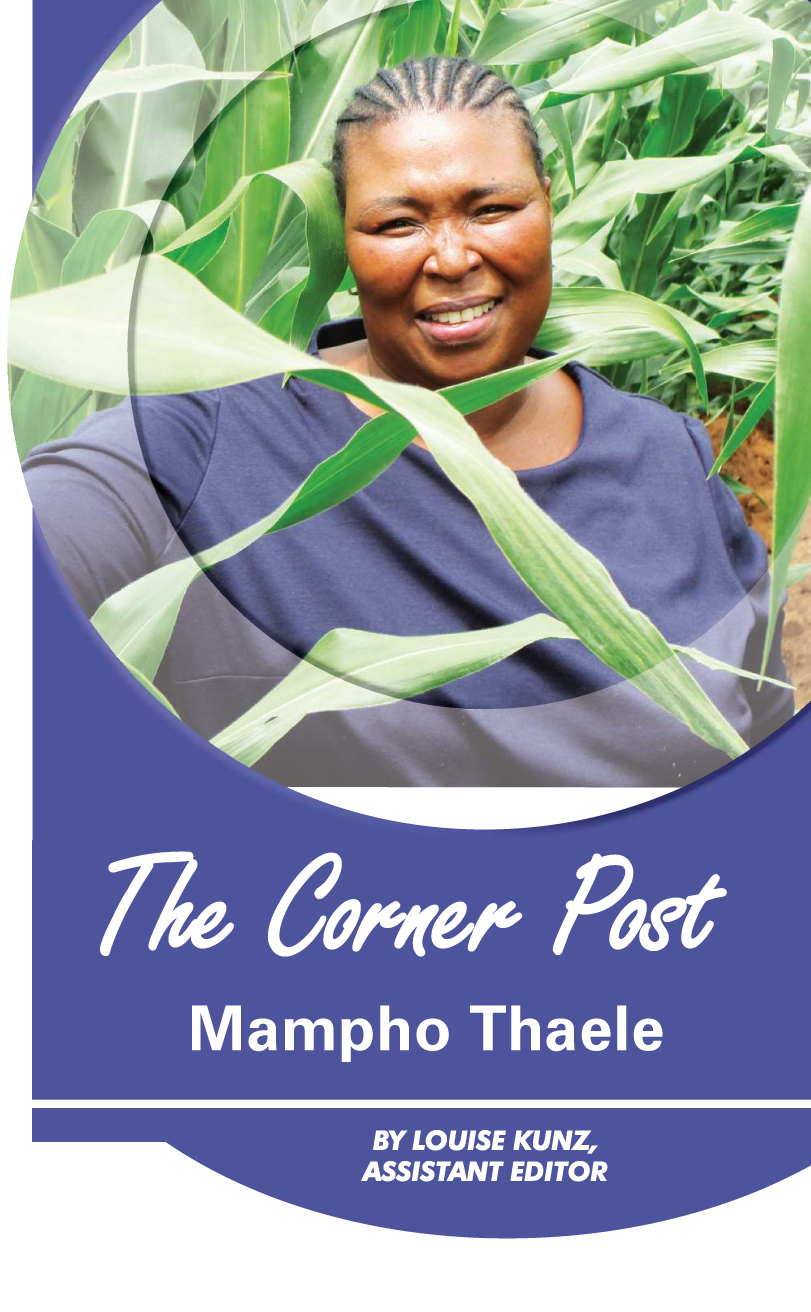 Mampho Adeline Thaele (46) is a finalist in the potential commercial farmer of the year competition. Apart from being a passionate lady, this mother of three is also a foster mother who has, since 2008, taken in nine foster children to offer them a chance at a better life.

Mampho is the eleventh of 13 children. She was raised by her grandmother in Thabong Township near Welkom as her parents worked on a farm in the Marquard district in the Eastern Free State. When her four children were big enough to stay with their grand-mother she found a job at a guest house in Welkom where she was put in charge of the other workers. When the guesthouse was sold she found work on a farm where she worked as a domestic worker for eleven years, dreaming of the day that she would be the farmer working the lands.
MAMPHO'S STORY
WHERE DID YOUR INTEREST IN FARMING ORIGINATE?
I used to spend school holidays on the farm in Marquard with my parents. I just loved it. The huge cows and the pens where the pigs were kept fascinated me. I was also in awe of the huge tractors and implements as they worked the lands and loved the smell of the soil when I was sent to take food to my father where they ploughed. When I had to go back to the township I used to cry. I have always dreamed of having a place of my own. As a child I used to plant vegetables in the yard and looking after the chickens.
HOW DID YOU BECOME A FARMER?
In 2014, the farm Perlot was purchased by the DRDLR and the lease contract was given to the Thaele family. My uncle, Pule Jan Thaele, was put in charge of the farm. He was already very old and sick and because he knew how passionate I was about farming he gave me the job of farm manager. This was a dream come true – I was now a farmer. I didn't care that the lands were overgrown with grass and weeds – the farm was ours and I would make a plan.
AND WHAT WAS YOUR PLAN?
I heard about Grain SA's study group meetings and attended my first meeting on 30 July 2015 in Welkom. I learned so much about farming – about soil, fertiliser,weed and grass control and much more. Suddenly I knew that it all was beginning to come together. The Grain SA Farmer Development Programme saved my career as a farmer. I also completed a National Diploma in Animal Production to learn more about cattle.
HOW HAS YOUR FARMING ENTERPRISE DEVELOPED?
Last season (2020/2021) I was part of the AbInbev Project and I planted 50 ha and realised a 4,8 t/ha yield. I am now part of the Standard Bank and Sacta project and planted 210 ha of which 160 ha was sunflower 160 and 50 ha was maize. I have diversified and also grow vegetables and have a piggery. The pork is sold in my own butchery in the Thabong township – it is called Black Move butchery.
WHAT IS YOUR DREAM FOR YOU FARMING OPERATION?
I would love to utilise all the arable land on the farm and plant it under cash crops. The rest can be used as pastures – if there is more grazing, I will definitely be able to grow my livestock component as well. I would love to get a title deed so that I can get finance to repair my three tractors. My big dream is to become a commercial farmer.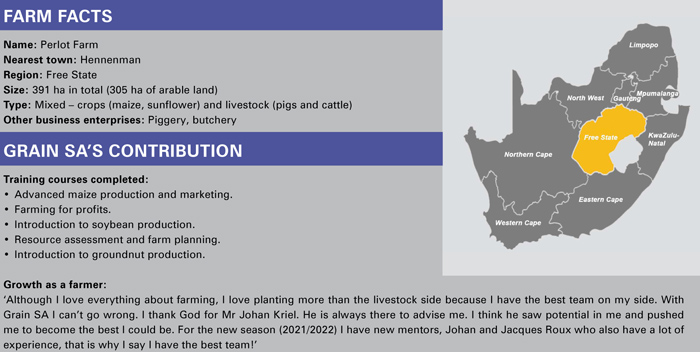 Publication: October 2022
Section: Pula/Imvula