Maize outlook for the 2022 production season
February 2022

IKAGENG MALULEKE,
AGRICULTURAL
ECONOMIST AT GRAIN SA
This article looks at prospects for maize production for 2022, given the Crop Estimates Committee (CEC) report on intentions to plant by producers.
INTERNATIONAL PROSPECTS
According to the International Grains Council (IGC), global production is likely to increase by 7% year on year, with average yields projected to recover after two successive declines (Table 1). Large crops are expected for the northern hemisphere growers, including the USA and Ukraine, while bumper turnouts are also anticipated in Brazil and Argentina, but much will depend on conditions later in the season, especially given heightened expectations for dry weather.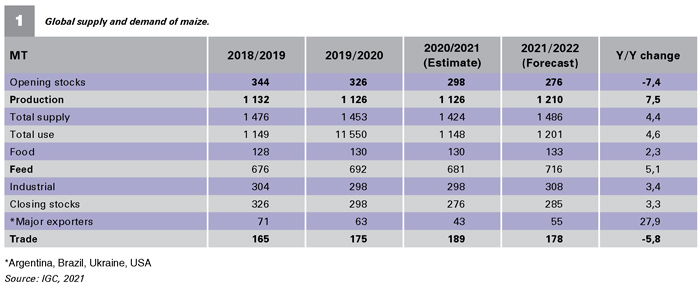 Consumption is forecast at a new peak amidst expectations of record availabilities. Ending stocks may bounce back after successive declines in the past two seasons but will remain below the recent average. Some concerns about next season's crop prospects given higher input costs also are featuring in the US market and currently supporting prices.
LOCAL PROSPECTS
According to the crop estimates committee report on intentions to plant, commercial producers intend to plant maize on 2,725 million ha for 2022, which is 30 200 ha less than the past season.
The report shows that producers intend on planting 1,644 million ha of white maize, which is 2,8% less than in the previous season. In the case of yellow maize, the expected plantings are 1,081 million ha, which is 1,65% more than the past season.
Table 2 is based on these intentions, with different scenarios based on low, average, and high yield prospects. Given the current weather forecast, scenario 2 (average yield) is more likely. This would mean a total crop of 15 million tons, with total commercial demand of 13 million tons and a carryover of about 2 million tons.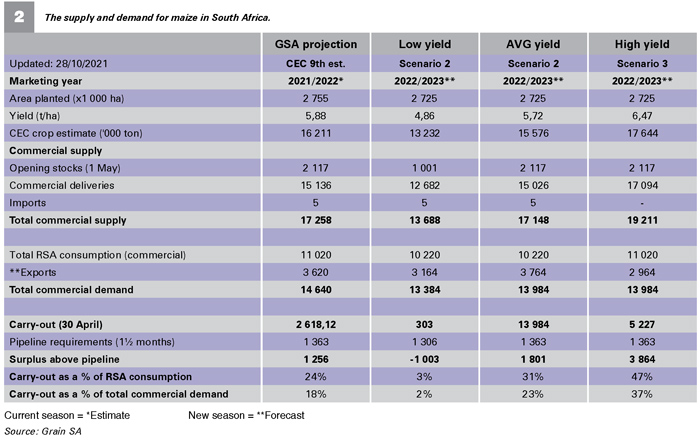 Such a large carryover would put some pressure on prices and therefore, more maize needs to be exported to balance things in the market and keep prices steady. However, the current challenge for exporting more is the issue of infrastructure, which still needs to be addressed through programmes like the agricultural master plan.

Publication: February 2022
Section: Pula/Imvula