Consistency is the only way to remain authentic
April 2022

IKAGENG MALULEKE,
AGRICULTURAL
ECONOMIST AT GRAIN SA
In 2020, Ikageng Maluleke, agricultural economist at Grain SA, joined the Syngenta leadership for agriculture academy. As a result of lockdown restrictions, the graduation ceremony for the 2020 class was postponed and only took place on 8 October 2021. In this article she shares her thoughts about the academy.
All I remember from the opening night are the words from the then CEO of Grain SA, Jannie de Villiers, that 'leaders make things better'. I found myself in a room filled with a diverse group of people. It was intimidating at first, but the common thread was our love for agriculture and the need to see things get better in our lifetime. What we all brought to the table was an open mind and a willingness to learn. Little did we know how much our lives were about to change for the better.
MORE ABOUT THE PROGRAMME
The programme aims to develop personal and leadership capacities in individuals so that we can individually and collectively reframe the context within which we lead. That is in all four zones of influence, namely leading a team; being a team member and follower; being a leader and mentor as well as leading yourself. This will help to positively impact the leadership culture of our enterprise or organisation.
To achieve this goal, 13 themes were covered and grouped into four clear and sequential development clusters. The content covered was quite dense, with a lot of reading and self-study. The classes were interactive and required a lot of introspection and vulnerability, which became easier once we were acquainted with one another. We shared life stories and events that shaped who we are today, many of which were tragic. We confronted many fears and unresolved emotions that hindered our growth. Participating in the academy has changed my outlook on life and how I view leadership.
WHAT IS A LEADER?
Henna Inam said: 'Authentic leadership is leading adaptively from your core, choosing whom you are most inspired to be to serve the greatest good at this moment.' This statement sits at the heart of all that I have learnt, the majority of which was about self-discovery. I now understand that leaders set a strategy, motivate, create a mission and build a culture, all of which lead to results. Before one can even start to implement the different leadership styles, emotional intelligence is a primer to becoming a better leader. This involves emotional self-awareness, self-management, social awareness and social skills. These form good bases when one exercises the different leadership styles.
Leaders create an environment conducive to growth and continuous learning to get the best results out of followers. We were encouraged to find our authenticity and focus on our strengths, with self-development as a key driver – 'Readers are leaders and leaders are readers'. Consistency is the only way one can remain authentic. Discovering my core values was the ultimate cherry on top. I now have a blueprint to check continuously if what I do aligns with my values. I realised that I am not willing to compromise on my values, no matter the circumstances.
AN INCREDIBLE JOURNEY
When I left the academy, I committed to be present in all my engagements and mindful of others and my surroundings. To listen effectively and focus on my vocal delivery in every conversation that I have. I will continue to reflect weekly in my journal as it helps me monitor my growth. I will also evaluate my values yearly to see if my actions align with my core values.
Overall, this was such an amazing journey – filled with self-discovery and understanding one's purpose and core values, before you can even lead. We have been equipped with tools that will help us navigate through the world of leadership. The diversity of the group allowed us to get different perspectives. Throughout the sessions, we were vulnerable with each other, which fostered understanding and trust amongst us. This platform allowed us to break stereotypes and to start having constructive discussions about a future that we want to see in agriculture.
We redefined expectations and considered ourselves as part of the solution to the crisis facing agriculture today. As young people, we are determined to shape the future of agriculture by pledging to be better leaders and committing to thinking and doing things differently to break the status quo. Over and above this, we have built strong networks and friendships that will last a lifetime.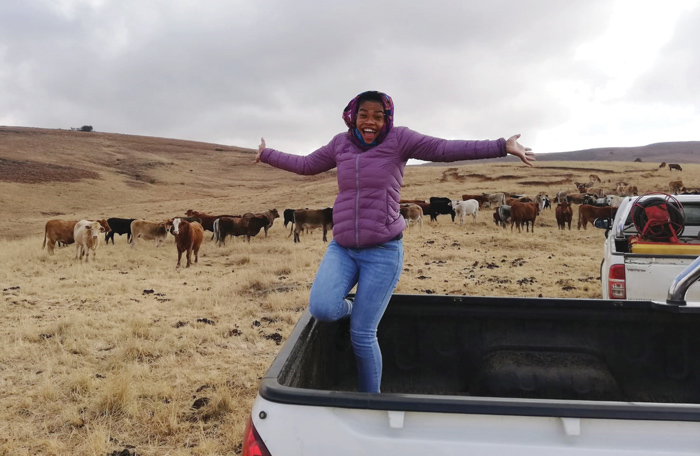 Publication: April 2022
Section: Pula/Imvula